Click on a contact name on the Contact Management page to view and edit detailed information about the contact.
Use the Portal tab of the contact details to view the client portal settings for the selected contact.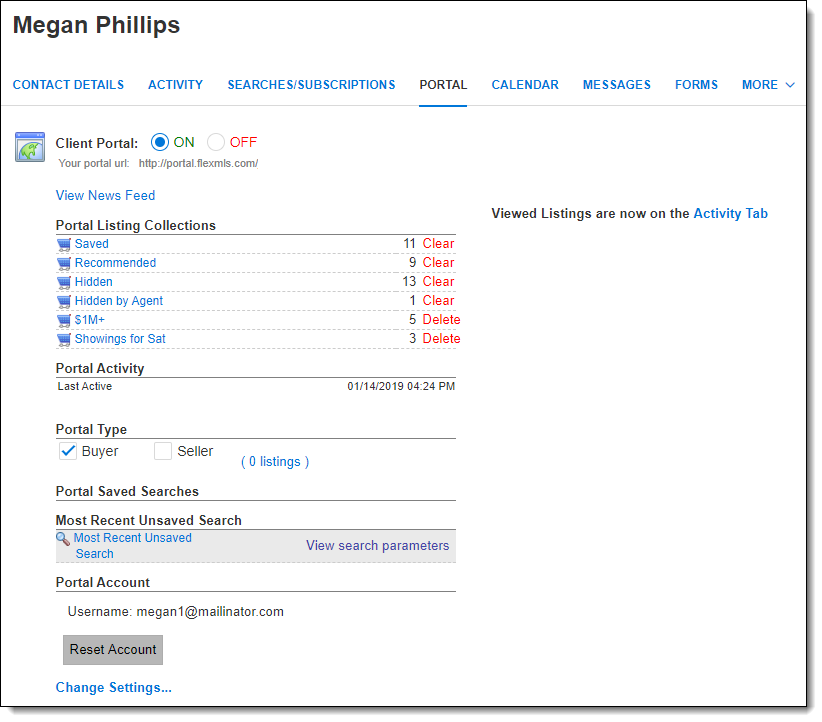 If you have not enabled the client portal for the selected contact, begin by selecting ON to give the client access to your portal.

Once you've turned the portal on for the contact, you can set individual portal preferences by clicking on Change Settings at the bottom of the tab.
To send an email to the contact inviting them to the portal, click the Invite to Portal link. You can modify the default subject line and message.
Preview the Client Portal
To preview the portal for the contact, click News Feed or any of the Portal Listing Collections. This lets you see an agent-side version of what your client will see. To change the information that appears on the portal, return to the Contact Management page. Use the Links tab to remove unneeded links from the portal (if you are using the classic version of the portal).
Portal Listing Collections
When your contact has used the portal, you can view saved, recommended, or hidden listing collections. Click the links to view the corresponding listings in each collection. To change the listings that are contained in any of the collections, click the collection name. To clear all items from a collection, click the Clear link next to the collection name. A confirmation page will be displayed before listings are permanently removed from a collection.
For more information about working with portal listing collections, see Work on Behalf of a Contact.
This section shows the last time your contact logged on to the Portal.
If your MLS uses buyer and seller portals, select whether the portal is set up for a client who is a buyer, seller, or both. This selection dictates the type of information that is displayed on the portal. If you select Seller as the portal type, you can attach a listing or listings.
If your MLS allows contacts to use the portal's search filter, you can review the listings in their most recent unsaved search by clicking Most Recent Unsaved Search. You can also review the search criteria they used by clicking View search parameters.
If you are a Flexmls IDX subscriber, your contacts and leads are able to save their searches, and as their agent, you are able to view their saved searches.
To send an email to the contact inviting them to use the portal, click the Invite to Portal button. You can modify the default subject and message and choose whether to include the contact's username.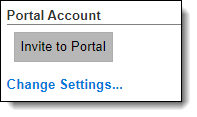 By default, the customer portal uses the settings you specified on the Portal Preferences page, accessible under Preferences on the menu. To change the settings for the selected client, click Change Settings. On the Portal Settings panel, make your selections and click Save Settings.