Customize an Inherited Quick Search Template
The MLS provides default Quick Search templates for each property type that are inherited by all members. Inherited templates cannot be changed or removed. If needed, you can create your own Quick Search template from scratch or you can save a modified version of an inherited template.
This topic describes how to customize a Quick Search template from within Quick Search. You can also manage your personal Quick Search templates on the My Quick Searches page. For more information, see My Quick Searches.
Tip
The following Guided Help tours are available for this function in Flexmls. When you click on a link, an instance of Flexmls will open in a new browser tab and instruction bubbles will guide you through the process.
Apply a View to a Quick Search Template
Each Quick Search template (for example, Residential) has a default view that controls which columns are displayed on the List tab of search results. To display a different set of columns, select a different view from the View menu. Quick Search will automatically remember the last view that you used with a template (either personal or inherited). The next time you begin a Quick Search with that template, your selected view is used.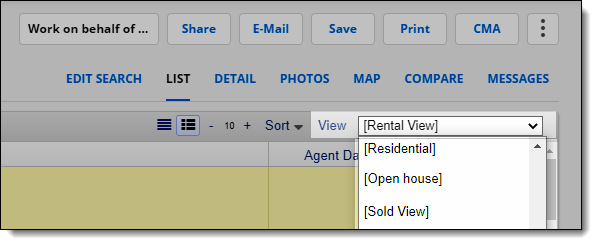 Save a Customized Version of an Inherited Template
If you find yourself making the same changes every time you use an inherited Quick Search template, you can create a personal copy of the template and adjust the default fields.
On the search results page, select the MLS-defined Quick Search template that you want to base yours on.

Add or remove fields from the search. (There is no need to define search criteria, as they aren't saved with a Quick Search template.)

While on the Edit Search tab, click the Save button, then click Save Quick Search Template.

Note

For an inherited template that you do not have permission to edit, this option will save a copy of the template. For a template that you have permission to edit, this option will save changes to the template.

On the Save Quick Search page, enter a name for your template and select a view. (For more information about views, see Create or Edit a View.)

Click Save. Your template will become available in the drop-down list on the Quick Search page.