To view your incomplete listings, click My Incomplete under Add/Change on the menu. An incomplete listing has been saved, but has not yet been made available in the MLS and has not been assigned an MLS number. Incomplete listings are visible only to the member who entered the listing (or if an administrator started the listing, the member who entered the listing and the listing or co-listing agent).
Tip
The following Guided Help tours are available for this function in Flexmls. When you click on a link, an instance of Flexmls will open in a new browser tab and instruction bubbles will guide you through the process.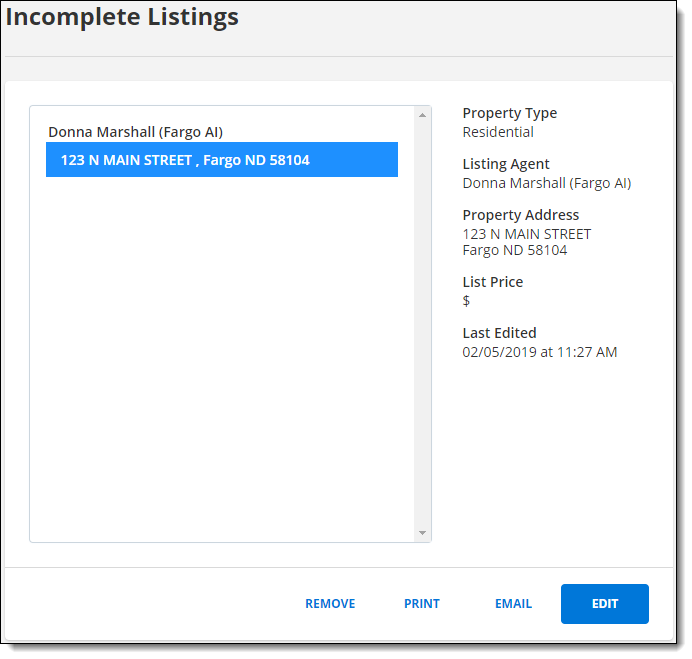 Select a listing and click Edit to open the Change Incomplete Listing page, where you can activate the listing. On the Change Incomplete Listing page, click Listing Information to open the Add Listing page. Then click the Add Listing button to assign an MLS number and make the listing available in the MLS.
You can add photos, documents, videos, and virtual tours to incomplete listings. For more information, see the following topics:
To delete an incomplete listing, select it and click Remove. If your MLS rules allow members to print and email incomplete listings, Print and Email buttons will also be available on the Incomplete Listings page. Click one of these options to print or email the listing information on an input form. Use input forms to write down information about a property to be entered into the system later. For more information, see Input Forms.