Function Buttons (Search Results)
The function buttons at the top of the search results page include options for sharing, printing, saving, exporting, and more. If your MLS uses third-party apps, additional function buttons may be displayed on your search results page.
Click Share to share selected listings, if allowed by your MLS. Your MLS may also allow sharing your own listings from the Change Listing page.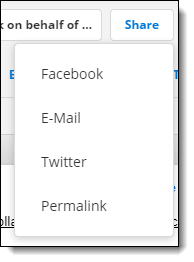 Note
If you create a permalink to share a listing, the link will be valid for 30 days.
Click Save to save the search, save selected listings as a listing collection, or create an IDX link from the search criteria (if you use Flexmls IDX). You can also access the save functions by pressing Control+S on the keyboard.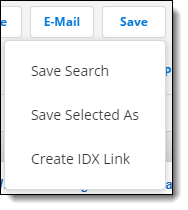 Click Email to send a listing report via email. You can send the interactive version, which includes a link to the search results that can be viewed in a browser, or the printer friendly version, which includes a link to a printer-ready report. For more information about sending listings via email, see Email Listings from Flexmls.
Click the More (three vertical dots) button to access additional actions that you can take on search results.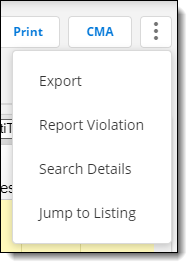 Click Export to export listing data to a file that can be shared or imported into another program. For more information, see Export Search Results.

Select a listing and click Report Violation to report errors you see in listing information. This option opens the MLS error reporting tool used by your MLS, and may be named differently in your MLS. For more information, see Report a Listing Error.

Click Search Details to view information about the search, including the property types included and the search criteria.

Click Jump to Listing when viewing the List tab to jump to a point in the list by typing a number in the selection box.